AC Installation in Oceanside
Air Conditioning Replacement in Temecula & Surrounding Cities
The summers in SoCal are intense! To make it through all the scorchers that lie ahead, it's important to have a quality AC system that you can depend on to keep you cool and comfortable. The first step in ensuring your satisfaction with your new air conditioning system is choosing the right Oceanside AC installation experts to handle the job. American Plumbing Heating & Air is here to help you select a unit that is perfectly sized for your space and make sure that it gets installed correctly for optimal performance.
Call (F:P:Sub:Phone) today and be on your way to an outstanding air conditioning experience!
When to Replace Your Air Conditioner
If you have an older AC system that's struggling to keep your home cool, you might be wondering if it's time to replace it. Typically, quality air conditioners can maintain great efficiency and cooling power for at least 10 years. Well maintained units may even last for up to 15 years. As a general rule, you should plan to replace your AC when it requires frequent or costly repairs after a decade of use. If the repair bill is going to be at least half the cost of a new unit, it's probably more cost effective to invest in a new system.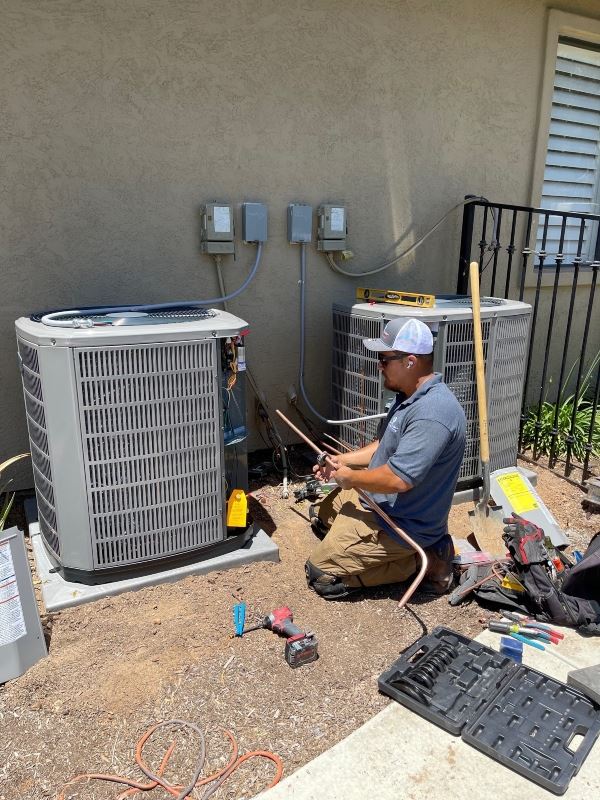 There are several signs that you'll need to replace your AC soon, including:
Diminished or warmer airflow -
When you use your AC, you never want to feel anything like warm air coming out of your vents. If you are noticing this when you turn on your AC, it could be that your unit needs a refrigerant recharge or it could possibly mean you need to replace your unit altogether. Contact our professional Oceanside air conditioning installation.
Loud, strange noises coming from your unit -
Odd sounds coming from your AC unit are never a good sign. If you notice loud squealing, scraping or grinding it may be a belt that has moved out of it's play and is causing damage. Contact our expert Oceanside air conditioning installation as soon as you notice these noises to avoid costly damage.
End of Lifespan -
Unfortunately, AC units are meant to last for forever. If your unit is over 10 years old it may be time to replace it. As your unit reaches the end of it's lifespan it will need more frequent repairs as well as run less efficiently. Save money on repairs and energy bills by looking into replacing your AC unit with a new one.
If your AC is on its way out, we'd be happy to handle your replacement. We'll help you find the ideal system for your needs and budget and ensure it's set up to provide long-lasting comfort to you and your family.
What's Size Got to Do with It?
For many things in life, the American mindset is that bigger is better. However, when it comes to an air conditioning system, this simply is not the case. An AC that is too large for a living space will turn on and off too frequently, causing more strain on the system and increased utility bills. Conversely, a unit that is too small will have to run for much longer than necessary to cool your home. This again can cause your energy bills to be higher than necessary, and even result in premature replacement.
When you work with our knowledgeable technicians at American Plumbing Heating & Air, we'll perform an accurate calculation to determine the exact size unit you require, ensuring that your system runs only as long as it needs to and doesn't waste any energy.
Call Today for a Free Estimate!
As you continue your search for the best AC for your home, why not benefit from a complimentary estimate from the team at American Plumbing Heating & Air. With our commitment to fair pricing, you can be confident you're getting the most for your money. We also offer financing plans to help you get the equipment you need when you need it.
Call (760) 906-9009 or contact us online for quality AC installation in Oceanside and surrounding areas.
"He quickly found the problem with my Air Conditioner and fixed it on the spot at a fair price."

Edward R.
See Why We are the Right Choice
A Team You Can Trust
We Are Certified, Bonded, and Insured

Family Owned & Operated

Spanish Speaking Team Members

Financing Options Available including 0% for 60 months!

24/7 Emergency Services

NATE-Certified HVAC Technicians